Who is Dr. Michael Bell?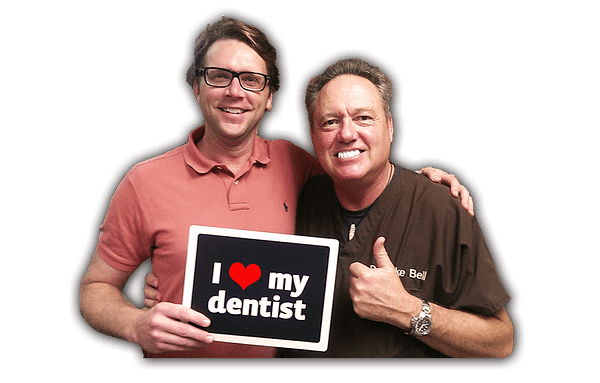 Dr. Michael C. Bell, DDS, is a nationally recognized practitioner of general and cosmetic dentistry in Austin, Texas.  Dr. Bell has been a practicing dentist since 1981, focusing on excellence in general and cosmetic dentistry, including dental implants. Dr. Bell and his team are known for their use of the latest technology to provide complete and accurate diagnoses of dental conditions, as well as patient comfort and safety.  His dedication to continuing education and willingness to grow and change with new knowledge as it becomes available has kept his practice at the forefront of dental care.
Invited to the White House
Dr. Bell has also been recognized nationally for his extensive community involvement and service. He was invited to the White House to be personally thanked by President George W. Bush for his contributions through the Smiles for Life program. Dr. Bell and his team have participated in the program, which helps seriously ill children, for five years. Locally, the team has provided free oral cancer screenings to firefighters. Dr. Bell has traveled to the countries of Panama, Nicaragua, and Belize with various faith-based organizations to provide dental care to those that cannot afford or even reach a dentist for care. In his personal time, Dr. Bell and his lovely wife, Maura enjoy walks around Town Lake, traveling together, and checking out the birds and wildlife of the Barton Creek Greenbelt.  His interest in health and nutrition keeps him energetic and a very positive attitude toward life.
Family
Dr. Bell is especially  proud of his beautiful daughter, Meryl and her wonderful husband Jonathan Heacock. Meryl and Jonathan have a new son, Logan, born December 23, 2012.  This is their first child and Dr. Bell's first time to be a Grandad! Drew Bell is his son, who is an accomplished golfer, on a golf scholarship at St. Edwards University, and making high marks in his studies of biology.
Dr. Bell earned a Bachelor's degree in Zoology from Texas A&M University in 1975, before receiving his Doctorate of Dental Surgery from the Baylor College of Dentistry in 1978. Upon graduation, Dr. Bell served as a Dental Officer in the United States Air Force for three years. He was awarded a special commendation medal for his service.
Since 1981
Dr. Bell has been in private practice since 1981, and is very dedicated to continuing education in all aspects of dentistry. He received his Fellowship in the Academy of General Dentistry in 1990, and is very close to his Mastership in the Academy of General Dentistry.
B.S. in Zoology, Texas A&M University, 1975
Doctorate of Dental Surgery, Baylor College of Dentistry, 1978
Dental Officer, United States Air Force (with special commendation for services), 1978-1981
Fellow, Academy of General Dentistry, 1990
Graduate of the Kois Center, 2012
Dr. Bell is a member of the American Academy of Cosmetic Dentistry, Academy of General Dentistry, American Dental Association, Texas Dental Association, Capital Area Dental Society, and is past president of Central Texas Academy of General Dentistry. Dr. Bell is active in a study group of Austin area dentists that participate or have completed the curriculum at the Kois Center, considered by many as the premier continuing education center for dentists in the United States.
Associations and Active Memberships
Fellow, Academy of General Dentistry since 1990 (link will take you to his extensive contiuing eduation record over the last three decades)
Member, American Academy of Cosmetic Dentistry
Member, Academy of General Dentistry
Member, American Dental Association
Member, Texas Dental Association
Member, Central Texas Chapter of the Academy of General Dentistry
Member, Capital Area Dental Society (past Chair of Peer Review)
Past President, Central Texas Academy of General Dentistry