The Benefits of Dental Implants
Learn more about these long-lasting dental alternatives.
Are you a good candidate for Dental Implants?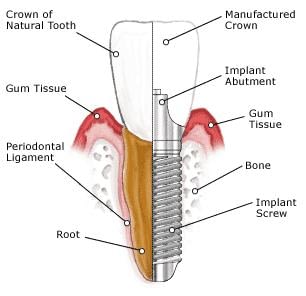 Dental implants are designed to provide a foundation for replacement teeth that look, feel, and function like natural teeth. The person who has lost teeth can regain the ability to eat virtually anything and can smile with confidence, knowing that teeth appear natural. Implants also can help preserve facial structure, preventing the bone deterioration that occurs when teeth are missing.
What are implants made of?
The implants themselves are tiny titanium posts that are placed into the jawbone where teeth are missing. The bone bonds with the titanium, creating a strong foundation for artificial teeth.
What is the process?
After the dental implant is placed in the proper position in the jaw bone, the implant normally is left undisturbed for three to four months while the bone grows right up to the implant, also called the time for osseointegration. Next, there is a short appointment where the top of the implant is exposed and an abutment is placed inside the implant and through the gum tissue and into the mouth. Individual teeth can be placed over the abutments or other types of attachments, which will support multiple replacement teeth.
Is the procedure uncomfortable?
Many patients are surprised at how simple and painless the entire process can be. Some are nervous about how permanent the implants can be, but that's actually one of the big advantages of implants. Also, many patients initially are apprehensive that the process requires drilling into the bone of the jaw, but the reality is that bone contains no nerve endings and there is no pain associated with that process.
Dr. Bell's Implant Credentials
Dr. Bell has restored hundreds of implant fixtures. In addition to restoring implants, he also performs the procedure of surgically placing the actual titanium fixtures (root portion) of the implant. Learn more about Dr. Bell and team.
Watch the video to learn more about implants
Get a Consultation
Are implants a good fit for you?
Do you have questions about dental implants? Concerned about the cost or the process? Contact us for a consultation to learn more and set your mind at ease. Implants have made a big difference in the lives of many of our patients.